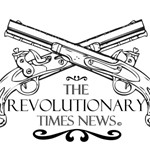 Published in The Revolutionary Times News on (12-30-2022)
INTERNATIONAL, NATIONAL, & COUNTY PUBLIC NOTICE
Richard Levine aka Rachel Levine (hereinafter "Levine"), current Assistant Secretary of the United States Department of Health and Human Services is hereby declared an enemy of the country by the National assembly for the Government of The United States of America (hereinafter "National assembly") on (December 29th, 2022) for implementing fascism (communism) in the form of ideological subversion upon children for the warring, satanic Baal Peor religious community, thereby violating the COMMUNIST EXPLUSION ACT OF 2019. Levine is advocating for the legislation of lifestyles that lead to spiritual death and demoralization of the inhabitant populace through the facade of health and safety of a nation. This tactic is the very definition of ideological subversion as discussed by KGB defector Yuri Bezmenov from a 1985 Interview.
By publicly requesting Big Tech companies censor disputing content in opposition to Gender Affirming Care, Levine is purposefully creating a false narrative of persecution upon sodomy, which is a lifestyle condemned by the God of Abraham, Isaac, and Jacob, in an attempt to stifle any opposition to the implementation of the communist agenda. The communist agenda is pushed through the worldly ideas of environmental, social, and corporate governance, also known as Climate worship, internationally objected to by the National assembly under the guise of health equity, and safety. Levine and his allies claim a moral high ground through a carefully orchestrated narrative of preaching tolerance to a society, thereby weakening said society into accepting immoral behavior as everyday life. This war like effort to subvert the minds of men who comprise the political subdivision states as moral persons has been carried out by the sectarian leaders with military precision to demoralize inhabitants into accepting unethical standards of living through a well-crafted delusion of indoctrination using terms like "gender equality".
The implementation of medical, surgical, and other forms of Gender Affirming care upon children and adolescents (hereinafter "underaged")  is considered mutilation upon the underaged and discrimination upon the procreating and adopting families thereof vacant consent, currently advocated for in the political subdivisions states 5889-S.PL.pdf (wa.gov) and  Puberty Blockers, Hormones and Surgery Without Parental Consent? State Debates Trans Sanctuary Bill | CBN News, within the District of Columbia corporate municipality under the district of Columbia Organic Act of (1871).
The members of the warring, satanic Baal Peor religious community have been classified as "mentally defective" by the National assembly on (April 18th, 2022) and as a member, Levine has continued with the war declaration by said community to confuse, indoctrinate, and corrupt the underaged. Yahushua's house is currently being put in order for His return. May Richard Levine aka Rachel Levine repent in accordance with the Gospel of Yahushua for a day that has been fixed in accordance with Acts 17:30-31 stated herein;
Acts 17:30-31
"30 The times of ignorance God overlooked, but now he commands all people everywhere to repent, 31 because he has fixed a day on which he will judge the world in righteousness by a man whom he has appointed; and of this he has given assurance to all by raising him from the dead." 
Access to the Oath and Records with in the National Great Registry provided here: National assembly – National Great Registry for The United States of America
Published by the National assembly for the Government of The United States of America