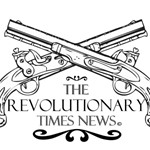 Published in The Revolutionary Times News on 5-2-2022
INTERNATIONAL, NATIONAL, & LOCAL PUBLIC NOTICE
On (April 18th, 2022) a motion was passed by the National assembly for the Government of The United States of America declaring the members of the LGBTQ+ Baal Peor religious community as mentally defective, thereby declaring said members as a risk to themselves and others.
Record of passed motion evidenced herein: LINK
The continued attempts by the Baal Peor religious community to indoctrinate children into gender confusion and identity has been witnessed and addressed by the office of the Special Prosecutor for the War Crimes Tribunal for The Untied States of America. Advocation for cross-dressing men and women reading to children in libraries and public areas is considered advocating for potential sexual abuse of children by potential sexual predators LINK. This method of enticing children is no different from clowns whose faces are painted, wigs worn, and unconventional wardrobes to further entice and indoctrinate children. Articles now provide explanations of the difference between clowns and drag queens, ironically providing further evidence of the similarities between LINK.
Yahweh, God of Abraham, Isaac, and Jacob preordained Two (2) sexes, man and woman. Attempts to rebel against Yahweh's creations by classifying oneself by any other gender is rebellion against Yahweh and advocation for satanism. The members of the LGBTQ+ Baal Peor religious community are under a spirit of disobedience evidenced in Galatians 5:19-21 stated herein;
 "19 The acts of the flesh are obvious: sexual immorality, impurity and debauchery; 20 idolatry and witchcraft; hatred, discord, jealousy, fits of rage, selfish ambition, dissensions, factions 21 and envy; drunkenness, orgies, and the like. I warn you, as I did before, that those who live like this will not inherit the kingdom of God."
May the members of the LGBTQ+ Baal Peor religious community repent in accordance with the Gospel of Yahushua (Jesus Christ) for a day that has been fixed in accordance with Acts 17:30-31 stated herein;
"30 The times of ignorance God overlooked, but now he commands all people everywhere to repent, 31 because he has fixed a day on which he will judge the world in righteousness by a man whom he has appointed; and of this he has given assurance to all by raising him from the dead."
Published by the office of the Special Prosecutor for the War Crimes Tribunal for The United States of America