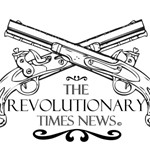 Published in The Revolutionary Times News on (11-10-2023)
INTERNATIONAL, NATIONAL, & COUNTY PUBLIC NOTICE
An account on YouTube, @LoneWolfUsul AKA David Alan Brasher, has posted a video for public viewing of a reign citizen being persecuted by Judge Jeffery C. Middleton for the State Bar of Michigan with the video header reading "Judge Middleton and the Counterfeiting Pro Se Sovereign Citizen". Brasher was notified several times of his liability for arbitrarily claiming a citizen in social compact as a sovereign citizen and the damaging effects it could have on the reign citizen which could lead to their demise, yet Brasher refused to remove the heading and has continued to be uncooperative. A Claim by the reign citizen was provided to Brasher without any response within the allotted time. There was speculation on whether Brasher's account was a manufactured entity, yet further communication with Brasher by the reign citizen's representative on YouTube confirmed Brasher's person with Brasher responding to former charges of Methamphetamines and claiming to be an anarchist (a person that disregards law, authority and ruling order).
Advocating for anarchy (lawless or sovereign citizen movement) while attacking a citizen of the reign of the heavens is an attack upon Jesus the Christ, the true authority on earth and King of reign citizens. YouTube was contacted several times about the misinformation without any action taken by YouTube. This is not surprising as YouTube is owned by Google/Alphabet Inc. and overseen by the Central Intelligence Agency (CIA), meaning YouTube does or does not do what the CIA wants. The CIA is about deception and lies while keeping the Babylonian agendas of the U.S. secret. This includes promoting lies that may lead to a person's demise.
It appears that Brasher and YouTube are complicit in slander, defamation of character and attempted murder. The Ministry of Defense for the reign of the heavens hereby witnesses the nefarious actions committed by Brasher and YouTube and will assist in further actions to hold Brasher accountable.
Published by the Ministry of Defense for the reign of the heavens in accordance with Matthew 28:18