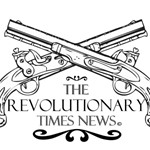 Published in The Revolutionary Times News on 5-31-2022
INTERNATIONAL, NATIONAL, & LOCAL PUBLIC NOTICE
Support for the Baal Peor religious community, hereinafter "Warring community", is an ongoing issue from PetSmart defiantly displaying the war flag of the Warring community LINK to Disney's Chief Executive Officer Bob Chapek supporting the Warring community by vowing to repeal the political subdivisions HB 1557 law and donating $5 Million to organizations that work to protect the Warring community LINK. Now Jennifer Mason, hereinafter "Mason", in Bellingham within the foreign political subdivision of Washington is supporting the war effort by owning and operating a sex shop, Wink Wink, that welcomes all ages thereby attempting to normalize potential pedophilia and sexual abuse of children LINK. Mason is celebrating youth pride by inviting youth to open mic night(s) at her sex shop evidenced below.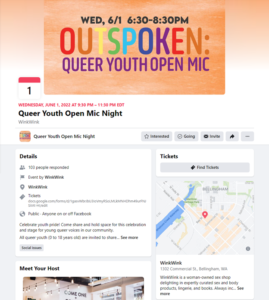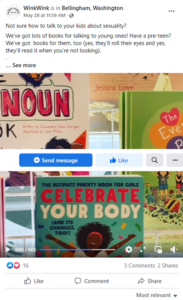 Mason's politically charged support LINK for the Warring community, while holding the elected position of School Board Director for Bellingham Public Schools LINK, places youth who have been raised as pagans by the public further into the satanic world system of false religion, human philosophy and a lifestyle of sin which aids and abets the destruction of the moral fabric of a society evidenced in Colossians 3:5-7 stated herein;
"5 Therefore put to death your members which are on the earth: whoring, unclean-ness, passion, evil desire and greed of gain, which is idolatry. 6 Because of these the wrath of Elohim is coming upon the sons of disobedience, 7 in which you also once walked when you lived in them."
Mason's support for the Warring community is a violation of the codified Law of Nations Book I Of Nations Considered in Themselves Chapter XII Of Piety and Religion. The established religion of the nation of The United States of America is "followers of the Way, the Truth and the Life" evidenced in Article 3 of the Bilateral Social Compact Agreement by and between the permanent population of the States of the Union of The United States of America LINK. Further evidence of warring with the morals and values of traditional parents over their children is provided in the caption below wherein participation by youth in the books provided by Wink Wink and Mason includes the viewing of sexual material without parental consent.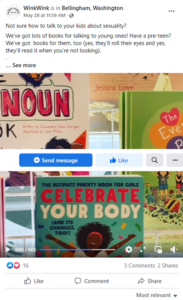 This Notice of Liability shall be utilized as evidence for proceedings within the War Crimes Tribunal for The United States of America against Mason for politically supporting the Warring community.
Published by the office of the Special Prosecutor for the War Crimes Tribunal for The United States of America