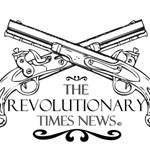 Published in The Revolutionary Times News on 6-5-2022
INTERNATIONAL, NATIONAL, & LOCAL PUBLIC NOTICE
Within the United States Federal corporation, hereinafter "U.S.F.", it's no secret that municipal bonds are issued on behalf of private entities to be invested on the stock exchange through investors and banks wherein the private entity is responsible for repaying the issuer. For example, a bond is issued by the CITY on behalf of JOHN DOE'S PERSON resulting from John Doe's person speeding in a vehicle. John Doe's person must repay the CITY for the bond issued as JOHN DOE'S PERSON is a legal fictional person only found on paper. If John Doe's person travels to another foreign political subdivision, hereinafter "state", within the U.S.F. and is caught speeding again, then another municipal bond is issued on behalf of JOHN DOE'S PERSON. This is known as the "Full Faith and Credit Clause" in accordance with Article IV Section 1 of the United States Constitution.
Although each person has a legal fictional PERSON, it is now evidenced that the members of the Republican and Democratic Party Corporations, hereinafter "527 Organizations" are creating new legal fictional PERSONS to issue municipal bonds as explained above. The below caption provides the evidence of a new entity created to issue said bonds, HOWARD F PAULWALKER WALKER III, created by a court within the foreign political subdivision of Pennsylvania wherein another bond was issued by the STATE OF FLORIDA.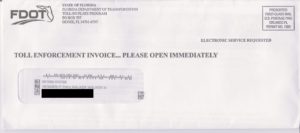 There was no entity named HOWARD F. PAULWALKER WALKER III in existence until a case within the Court of Common Pleas of Cambria County submitted improper PERSONS to judge Patrick T. Kiniry, hereinafter "Kiniry", wherein an arbitrary judgment was issued by Kiniry involving one PAUL A WALKER, another legal fictional PERSON that has no person to repay said judgment, evidenced in the caption below.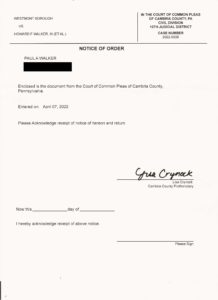 A civil complaint submitted to Kiniry by one Michael J. Parrish, a lawyer or officer for a king or nobleman going by the surname of Esquire, hereinafter "Esquire", submitted an improper person within the complaint for Kiniry to review evidenced below.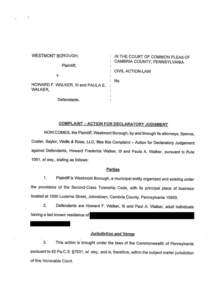 As is witnessed, Paul A. Walker was not a Defendant but was improperly submitted within the complaint. The results were an entirely new entity created by the Court of Common Pleas of Cambria County, HOWARD F PAULWALKER WALKER III, for the purpose of a municipal bond issued for Howard F Paulwalker Walker III's person, a non-existent person, to repay in accordance with the arbitrary judgment by Kiniry. Committing the nefarious action of creating an entity for the purpose of issuing bonds to collect emoluments in the form of FIAT currency, money with no value or substance, is considered Fraud and Debt Slavery upon the person being forced to repay said bonds. Kiniry, who has accepted nominations from both 527 Organizations, is hereby liable for damages from said nefarious action resulting from Esquire's improper submission of a complaint.
This Notice of Liability shall be utilized as evidence for proceedings within the War Crimes Tribunal for The United States of America against those persons named within this International Public Legal Notice for committing said nefarious actions. Yahushua's house is now being put in order for his return. May the members of the 527 Organizations repent in accordance with the Gospel of Yahushua for a day that has been fixed in accordance with Acts 17:30-31 stated herein;
"30 The times of ignorance God overlooked, but now he commands all people everywhere to repent, 31 because he has fixed a day on which he will judge the world in righteousness by a man whom he has appointed; and of this he has given assurance to all by raising him from the dead."
Published by the office of the Special Prosecutor for the War Crimes Tribunal for The United States of America