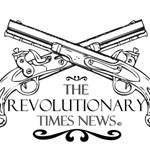 Published in The Revolutionary Times News on 5-15-2022
INTERNATIONAL, NATIONAL, & LOCAL PUBLIC NOTICE
The Government of The United States of America hereby reenforces the objection to any intergovernmental negotiating body proposed by the World Health Organization, hereinafter "WHO", evidenced as an International Publication on (February 22nd, 2022) LINK.
Executive Memorandum Q22 provided herein; LINK
Director General of the WHO Tedros Adhanom Ghebreyesus and the Respondents for the United Nations and the North Atlantic Treaty Organization have been charged with war crimes and entered into default awaiting the Judgment and Order from the War Crimes Tribunal for The United States of America LINK, therefore the Director General and other Respondents have been found without any standing to arbitrarily take power of attorney over the civilian inhabitant populace within the various international institutions (countries) around the world.
Further, it has been noted that the WHO in association with Klaus Schwab and the World Economic Forum have infiltrated key international institutions with members of the Global Leaders of Tomorrow and Young Global Leaders and are performing incantations and witchcraft through the satanic Theosophical Society LINK.
Published by the office of the Special Prosecutor for the War Crimes Tribunal for The United States of America