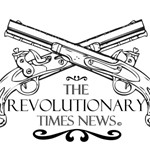 Published in The Revolutionary Times News on [08-23-2023]
INTERNATIONAL, NATIONAL, & COUNTY PUBLIC NOTICE
The medical community is not a political community. The medical community operates under contracts on a individual basis and therefore no political party or state has the right to regulate the medical community into a political weapon. All regulatory commands or orders are notwithstanding.
The federal reserve has violated Book 1, chapter 10 section 106 of the law of nations wherein its regulations authorize the stealing of the equity of the country with inflation. The officers of the federal reserve have chosen to be governed by the law and not by grace. Therefore, the laws of this world do apply to the federal reserve.  The federal reserve cannot stop its own inflation of its own currency so it has shown itself to be incompetent and therefore doesn't have any authority over any currency  whether in the form of cash, digital currency, securities and or precious metals. The federal reserve incompetence has polluted the world economy and trade.  
The U.S. does not speak for any reign citizen nor does any of its hired representatives within it represent any reign citizen. The U.S. and its illuminati employees do not represent any reign citizen. The U.S. and its political subdivisions are a joke and so corrupt, a betting pool can be formed on how bad the corruption is going to be within the next month. Its president is a complete embarrassment. It does not have any elections, all elections are now rigged to fit the agenda of the world economic forum.  Its rebellion against Yahweh and Jesus, the Christ is very clear. If the U.S. and its political subdivisions try to regulate a reign citizen, that is known as forced association. No one need lift a finger to overthrow the U.S. because it has already overthrown itself and we all wait for its total suicide. 
 Published by the assembly of Elohim: Matthew 28:18