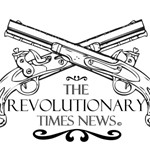 Published in The Revolutionary Times News on [6-22-2023]
INTERNATIONAL, NATIONAL, & COUNTY PUBLIC NOTICE
The Ministry of Defense for the reign of the heavens, A Set Apart Place hereby notifies the Holy See of its failed mission to follow Yahushua the Messiah evidenced by associating with those that say they are Jews and are not, therefore advocating for humanity's enslavement and condemnation through all that is of the world.
The Roman Catholic Church of the Holy See placed a Roman Pontiff (white pope) at the head of the church as a successor to Peter the Apostle, a follower of the Way, and the Truth, and the Life crucified by the Roman Empire during the dictatorship of Nero. The Holy See whitewashed the verbiage in Scripture from overseer to bishop, the whitewashing evidenced in 1 Timothy 3:1-2 in Scripture and the King James Version (Roman).
The Holy See is controlled by savage wolves in sheep's clothing as stated in Mattithyahu (Matthew) 7:15 that have taken mammon on loans from those that say they are Jews and are not, the Rothschilds, and now operate in servitude to the Rothschilds instead of Yahushua, thereby operating for the wicked one, Satan, evidenced in the Council for Inclusive Capitalism. The Rothschilds are associated with Freemasonry whose Masons, or "builders" of the Masonic religion worshipping false gods, are mentioned in scripture as those that reject the chief cornerstone and the Holy See has colluded with agents for Satan as rejecters of Yahushua in defiance of His commandments for man evidenced in Mattithyahu (Matthew) 22:37-39 stated herein;
37And Yahushua said to him, "'You shall love Yahweh your Elohim with all your heart, and with all your being, and with all your mind.'38"This is the first and great command.39"And the second is like it, 'You shall love your neighbour as yourself.'
The United States corporation ran by Masons now under the administration of reprobate minds and the military institutions thereof have exposed their real savage wolf undercoat and association as the Tripartite, the Crown (City of London Corporation banking branch), the Holy See (the church branch), and Washington D.C. (the military branch). The Tripartite is much of the Synagogue of Satan and the Esoteric Society of those that say they are Jews and are not that is converting humanity to the One World Order by way of the World Economic Forum, Davos, and the United Nations with its branches.
The Gospel of Yahushua is meant for all persons that are willing to accept Him as Savior and follow in the Set-apart Spirit, not a select few individuals that suppress truth for the Synagogue of Satan. Yahweh, the God of Abraham, Isaac, and Jacob's perfect plan of mercy and glory is unfolding, and the Ministry of Defense hereby urges repentance by all those involved in accordance with the Gospel of Yahushua for a day that has been fixed in accordance with Acts 17:30-31 stated herein;
"30 The times of ignorance God overlooked, but now he commands all people everywhere to repent, 31 because he has fixed a day on which he will judge the world in righteousness by a man whom he has appointed; and of this he has given assurance to all by raising him from the dead."
Published by the Ministry of Defense for the reign of the heavens, a Set Apart Place