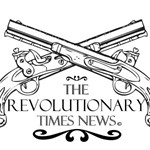 Published in The Revolutionary Times News on 3-14-2022
INTERNATIONAL, NATIONAL, & LOCAL PUBLIC NOTICE
Public officials in the political subdivisions of the United States Federal corporation have been advocating for communism by promoting the discrimination of color in public schools with Critical Race Theory (CRT) under the guise of diversity, equality, and tolerance to further devolve and indoctrinate the civilian inhabitant populace. Some public officials claim to be fighting CRT yet appoint education secretaries with ties to campaigns in favor of CRT LINK. Florida State University has received 2.5 million USD by the U.S. Department of Education LINK.
Advocates are attempting to utilize classrooms by promoting the agenda in universities, colleges, and campuses through actions such as changing curriculum requirements, changing admissions policies, instituting disciplinary measures, and funding race theory programs and research LINK. Robin DiAngelo has been found guilty of committing communism by the Human Rights Tribunal International for attempting to indoctrinate peaceful inhabitants into believing they are racist with slandering terms like white fragility and white privilege LINK.
There are political subdivisions that are taking efforts to combat CRT. New Jersey has introduced legislature to restrict instructional materials that include CRT LINK and other political subdivisions are following suit LINK.
The term "race" was introduced to the English language by medieval ages poet William Dunbar in the poem The Dance of the Sevin Deidly Sins LINK. Since it's introduction the term has evolved through influence upon the populace as a mechanism for social division and a form of communism implemented on the human race LINK.
This publication shall be an instrument for prosecution of those public and school officials within the political subdivisions of the United States Federal corporation for committing Communism upon the civilian inhabitant populace. To lead other men and women away with false philosophies will only lead to one's condemnation by Yahushua.
Colossians 2:8 states; "Beware that no one leads you away like a prize because of philosophy or empty, false statements, according to the traditions of men, after the elements of the world, and not after the Messiah!"
Published by the office of the Special Prosecutor for the War Crimes Tribunal for The United States of America